Abstract submission

Authors are invited to submit abstracts (400 words) in electronic form until March 31 2023. The abstract must be written in English. Submitted abstract should include the title, author, address, body of abstract, and six key words. Carefully fill out the requested information during the submission process (title, presenter's name, full authors' names, affiliations); this information will figure in all abstract support documents and tools. Abstracts must concisely describe the study or topic in detail. Your abstract will not be published until your registration and full payment have been received. 
Abstracts should be sent as a part of the registration form. Send your abstract to: wrw_conference@limnology.ro
IMPORTANT !
Romanian Limnogeographical Association offer 4 grants for students/young researchers (<30 y): 2 of grants for Romanian students/young researchers and 2 for any participant from this category interested to participle at the meeting. Grants cover registration fee (see registration form). Abstracts received in this category (before March 15, 2023) are subject to "blind" peer review process by 10 independent reviewers. The reviewers are asked to provide a evaluation on a scale from 1 to 10. The score obtained from the reviewers will be aggregated and will represent the final score (max. 100 points). Results will be available after 25 March 2023.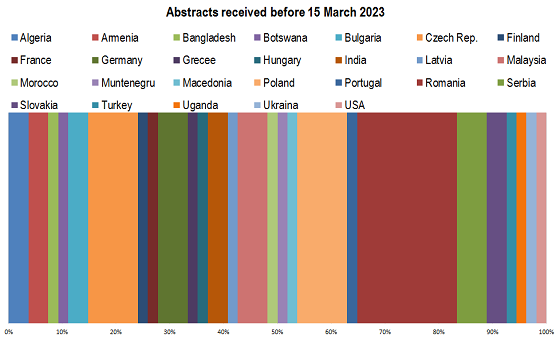 Regular sessions
RS1. Rivers and lakes ecosystem ecology
RS2. Climate changing and water resources
RS3. Coastal environment
RS4. Deltas and wetlands
RS5. Water policies
Thematic sessions
TS1. Microplastic in water and environment
TS2. Impact of Anthropogenic activity in Mediterranean watersheds
TS3. Connectivity of Inland Waters (River conectivity, Habitat Structure, Fragmentation and Biodiversity)
TS4. Remote sensing and GIS - support for monitoring of inland waters
TS5. Aquatic toxicology & Aquatic microbiology