Abstract submission
Update: March 25, 2021
First, if the situation regarding pandemics will normalize, the conference will be organized in-person as planned, in Tulcea and field trip will be in Danube Delta (8-12 September 2021). Depending by the EU and national regulations it is possible to be necessary to have a vaccination certificate or a negative RT-PCR test to travel in Romania. Also, both in-person and virtual participation will be possible.

Second, if the situation will be far from optimal, we plan to organize a virtual conference.

All abstracts received in 2020 are already in our databases. Is not necessary to resubmit your abstract!
Authors are invited to submit abstracts (400 words) in electronic form until June 28 2021. The abstract must be written in English. Submitted abstract should include the title, author, address, body of abstract, and six key words. Carefully fill out the requested information during the submission process (title, presenter's name, full authors' names, affiliations); this information will figure in all abstract support documents and tools. Abstracts must concisely describe the study or topic in detail. Your abstract will not be published until your registration and full payment have been received. 
Abstracts should be sent as a part of the registration form. Send your abstract to: wrw_conference@limnology.ro

Thematic sessions
The Organizing Committee invites researchers and academics to submit their proposals to organize thematic sessions. The proposal should include 6 tentative titles of potential contributions, names and affiliations of the main authors. We would like to offer an opportunity for participants to apply for the special sessions to be included into the programme of WRW 2021. Each parallel session will last 120 minutes (oral presentation 15+5 minutes discussions). There are maximum four parallel sessions running at a time.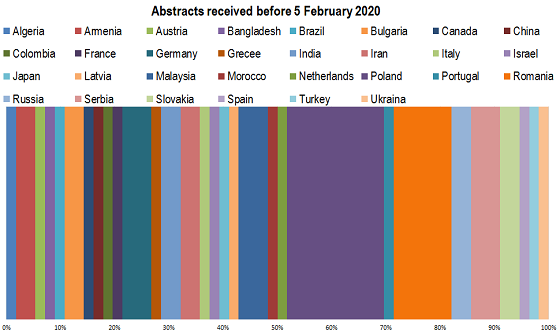 Regular sessions
RS1. Rivers and lakes ecosystem ecology
A2 FRESHWATER BIODIVERSITY IN MEDITERRANEAN CLIMATE REGIONS: CURRENT STATUS AND FUTURE TRENDS
Núria BONADA (Spain)
A3 THE MANY SECRETS OF AQUATIC FOOD WEBS – ESSENTIAL NUTRIENTS AND POTENTIAL CONTAMINANTS IN A CHANGING WORLD
Martin J. KAINZ, Matthias PILECKY, Libor ZAVORKA, Margaux MATHIEU-RESUGE, Fen GUO, Nadine EBM, Sami TAIPALE, Michael T. BRETT, Stuart E. BUNN, Brian FRY (Austria/Finalnd/USA/Australia)
A4 HYDROGEN PEROXIDE CONCENTRATION AS AN INDICATOR OF ABIOTIC ENVIRONMENTAL STRESS OF MACROPHYTES FOR MANAGEMENT
Takashi ASAEDA, Mahendra BANIYA, Gulgina MUHTAR , Hiranya JAYASANKA, Fumiko IMAMURA, Akio NOHARA, Hiroki WATANABE, Maoko IGUCHI (Japan)
A5 MONITORING OF PLANT PROTECTION PRODUCTS IN SMALL WATER BODIES IN THE AGRICULTURAL LANDSCAPE OF NORTHERN GERMANY
Marlen HEINZ, Stefan LORENZ, Matthias STÄHLER (Germany)
A6 PHYTOPLANKTON AND TROPHIC STATUS OF AN ANDEAN URBAN WETLAND: SANTA MARÍA DEL LAGO. BOGOTA, COLOMBIA-SOUTH AMERICA
Raúl Hernando LÓPEZ PERALTA, Liliana Haydeé BLANCO BARROS (Colombia)
A7 THE MANAGEMENT OF PUTRAJAYA LAKE AND WETLAND AQUATIC ECOSYSTEM
Normaliza NOORDIN, Akashah MAJIZAT, Nurliyana ABDUL RAHAMAN, Ruhselah ISMAIL (Malaysia)
A8 Space-time and nictemeral variation of Nitrate (NO3) on the surface and bottom of the water column, at two points with different frameworks, in the Jacuí Delta, Lake Guaíba, RS, Brazil
Marco Vinicius MARTINS1, Cristiano POLETO (Brazil)
A9 AQUATIC MACROPHYTES, THOSE THAT ARE FORGOTTEN BY CONSERVATION POLICIES. THE CASE OF A PARADIGMATIC SOUTHERN EUROPEAN TERRITORY
Pablo GARCIA-MURILLO (Spain)
A10 FORESTS LOCATED ON BANATULUI MOUNTAINS RIVER SLOPES THAT SUPPLY ACCUMULATION LAKES
Lucian DINCĂ, Vlad CRIȘAN (Romania)
A11 AGRICULTURAL DRAINAGE DITCHES: REDUCING HYDROLOGICAL AND POLLUTION IMPACTS ON DOWNSTREAM RECEPTORS VIA CONSERVATION PRACTICES
David LAPEN, Mark SUNOHARA, Emilia CRAIOVAN, Steve FREY, Mark SUMARAH, Lyne SABOURIN, Justin RENAUD, Izhar KHAN, Wen CHEN (Canada)
A12 POSSIBILITIES OF WETLAND RESTORATION IN ORDER TO SUPPORT BIODIVERSITY IN THE POIPIE REGION IN THE SOUTH OF SLOVAKIA
Adam REPEL, Martina ZELEŇÁKOVÁ (Slovakia)
A13 AQUACOSM-PLUS: OFFERING ACCESS TO EUROPEAN NETWORK OF LEADING ECOSYSTEM SCALE EXPERIMENTAL AQUATIC MESOCOSM FACILITIES
Jens C NEJSTGAARD, Stella A BERGER, Katharina MAKOWER, Consortium AQUACOSMplus (Germany)
A14 CLADOCERA TRAINING SET FROM CENTRAL EUROPE: TOWARDS A QUANTITATIVE RECONSTRUCTION
Izabela ZAWISKA, Monika RZODKIEWICZ, Michał WOSZCZYK, Jarosław JASIEWICZ
A15 THE ROLE OF PLANNING LEGISLATION IN THE PROTECTION OF "PRVONEK" ACCUMULATION
Ljubisa BEZBRADICA, Jelena BASARIC (Serbia)
A16 INFLUENCE OF BIOLOGICAL REMAINS ON GRAIN-SIZE DISTRIBUTION OF MONTCORTÈS LAKE SEDIMENTS: DEEPENING ON PALEOLIMNOLOGICAL INTERPRETATION
Pilar LOPEZ-LASERAS, Xènia RODRÍGUEZ, Pelayo NISTAL, Mari Carmen TRAPOTE, Joan GOMÀ, Teresa VEGAS-VILARUBIA (Spain)
A17 DOWNSTREAM CHANGES IN PHYTOPLANKTON AND ZOOPLANKTON COMMUNITIES OF THE MIDDLE DAUGAVA RIVER DURING THE SUMMER LOW-WATER PERIOD: A LAGRANGIAN DRIFT STUDY
Dāvis GRUBERTS, Jana PAIDERE, Ivars DRUVIETIS (Latvia)
A18 THE NEW DATA ON THE DISTRIBUTION OF DIATOMS IN THE CENTRAL EUROPEAN LAKES AS A BASIS TO RECONSTRUCT PAST ENVIRONMENTAL CHANGES
Monika RZODKIEWICZ, Izabela ZAWISKA, Michał WOSZCZYK, Jaroslaw JASIEWICZ (Poland)
A19 SUBSURFACE LOADS OF PLANT PROTECTION PRODUCTS INTO SMALL LAKES
Karin MEINIKMANN, Matthias STÄHLER, Stefan LORENZ (Germany)
A20 SEDIMENT YIELD ASSESSMENT OVER THIRTY THREE YEARS OF MONITORING IN THE UPPER WADI KEBIR CATCHMENT, NORTHEAST OF ALGERIA
Kamel KHANCHOUL, Mahmoud TOURKI (Algeria)
A21 STUDY OF ATTITUDES AND PERCEPTIONS OF LOCAL COMMUNITY ACCORDING TO THE MANAGEMENT OF LAKE KERKINI (GR1260008), Ν. GREECE
Anna LATSIOU, Vassilis DETSIS, Georgios EFTHIMIOU and Despina SDRALI (Greece)
A22 MODELING OF RESHAPING THE BOTTOM OF LARGE RESERVOIRS
Marina SHMAKOVA, Aleksandr RAKHUBA (Russia)
A23 THE INFLUENCE OF TROPHIC LEVEL AND CLIMATE CHANGE ON PLANKTIC, BENTHIC AND FISH COMMUNITIES IN LAKE SEVAN, ARMENIA
Karen JENDEREDJIAN, Susanna HAKOBYAN (Armenia)
A24 PHYTOPLANKTON COMPOSITION AND WATER QUALITY IN FISH FARMING PONDS
Marija RADOJIČIĆ, Barbora MÜLLEROVÁ, Radovan KOPP (Czech Republic)
A25 WATER QUALITY – WEATHER CONDITIONS – SUBMERGED VEGETATION RELATIONS IN SHALLOW RESTORED RESERVOIR
Renata DONDAJEWSKA-PIELKA, Agnieszka BUDZYŃSKA, Ryszard GOŁDYN, Stanisław PODSIADŁOWSKI (Poland)
A27 PRELIMINARY DATA REGARDING NESTING SITE SELECTION OF THE EURASIAN COOT (FULICA ATRA) IN THE LOCAL CONDITIONS OF CÂMPENEȘTI, ROMANIA
Valentin Adrian KISS, Alin DAVID (Romania)
A28 INDUSTRIAL EFFLUENT AND MUNICIPAL DISCHARGE EFFECT ON THE FISH FAUNAL DIVERSITY OF WADI HANIFAH, RIYADH, SAUDI ARABIA: A CASE STUDY
M. Golam MORTUZA, Fahad A. AL-MISNED (Iran)
A29 THE POLLUTANT CONTENT IN THE PADMA RIVER WATER DRAINING FROM RAJSHAHI CITY, BANGLADESH: A CASE STUDY
M. Golam MORTUZA (Iran)
A30 APPLICATION OF STATISTICAL MODELING IN RISK ANALYSIS OF SHALLOW LAKES
Zeljka RUDIC, Bojana VUJOVIC, Goran NIKOLIC, Mile BOZIC, Vera RAICEVIC (Serbia)
A31 ASSESSMENT OF HABITAT STRUCTURE AND PREFERENCE OF WETLAND BY BIRD COMMUNITIES TO POTENTIAL RAMSAR SITE IN INDIA
Shraddha KULKARNI, Subhash MALI, Prasad KULKARNI, Priti APHALE (India)
A32 ENVIRONMENTAL ASSESSMENT OF THE URBAN ARCTIC LAKES (MURMANSK, RUSSIA)
Zakhar SLUKOVSKII, Dmitry DENISOV, Vladimir DAUVALTER, Svetlana VALKOVA, Alina GUZEVA, Alexander CHEREPANOV, Marina POSTEVAYA (Russia)
A 33 INFLUENCE OF FLOODING AND URBANIZED TERRITORIES ON HYDROLOGICAL REGIME AND WATER QUALITY IN THE AMUR RIVER
Аleksei MAKHINOV, Vladimir KIM, Liu SHUGUANG, Аleksandra MAKHINOVA (Russia)
A34 THE USE OF INSTANTANEOUS PROFILES METHOD TO STUDY THE LEACHATE MIGRATION THROUGH UNSATURATED SOIL
Laouni GAIDI, Chahira SAYAD GAIDI, Laouni BENADELA (Algeria)
A35 EVOLUTION OF THE AMARADIA DRAINAGE CANAL OVER THE LAST 100 YEARS
Gilda CIORECAN, Sandu BOENGIU (Romania)
A36 MATHEMATICAL SOLUTION FOR DIMENSIONING A RECTANGULAR CHANNEL AT CRITICAL FLOW
Mohamed Lakhdar NEBBAR (Algeria)
A37 WATER QUALITY IN IRON GATE / DJERDAP NATURAL PARKS. FIRST FINDINGS OF "AEPS", AN INTERREG – IPA CBC ROMANIA – SERBIA PROJECT.
Francisc POPESCU, Nada STRBAC, Ioan LAZA, Milan Trumic, Bogdana VUJIC, Maja TRUMIC, Carmen RADESCU, Antonjievic VUKOSAV, Adrian-Eugen CIOABLA (Romania/Serbia)
A38 OPTIMIZING THE OPERATION OF A WATER STORAGE WITH COMPLEX USES CASE STUDY FOR HYDROTECHNICAL SYSTEM STRÂMTORI – FIRIZA
Costică SOFRONIE, Sergiu SOFRONIE (Romania)
A39 THE HYDROCHEMICAL CHARACTERIZATION OF GROUNDWATER IN THE GHRISS PLAIN BASIN, NORTH-WEST ALGERIA
B. BEKKOUSSA, S. BEKKOUSSA (Algeria)
A40 THE ANTHROPIC IMPACT ON THE HYDROGRAPHY IN THE BLAHNIȚA PLAIN. CURRENT STATUS AND MEASURES IN PERSPECTIVE
Cristian RĂDUCĂ, Constantin ENACHE, Sandu BOENGIU (Romania)
A41 INFLUENCE OF ENVIRONMENTAL FACTORS ON MACROZOOBENTHIC COMMUNITIES IN DIFFERENT TYPES OF STANDING WATER BODIES IN BULGARIA
Marin SMILYANOV, Emilia VARADINOVA (Bulgaria)
A42 GROUNDWATER PROTECTION: HYDRAULIC CONDUCTIVITY MEASUREMENT OF SEALING BARRIERS
Chahira SAYAD GAIDI, Laouni GAIDI (Algeria)
A43 COMPARİSON OF HEAVY METAL ABSORPTİON OF SOME ALGAE ISOLATED FROM ALTINAPA DAM LAKE (KONYA/ TURKEY)
Cengiz AKKÖZ, Baran AŞIKKUTLU, Numan Emre GÜMÜŞ (Turkey)
A44 ALGAE ISOLATİON AND DETERMİNATİON OF THE MİNERAL CONTENT OF ISOLATES FROM MALAS POND (KONYA, TURKEY)
Baran AŞIKKUTLU (Turkey)
A45 PRELIMINARY MONITORING ON ANTHROPOGENIC CONTAMINATION OF WATER FROM EL BELLAH WADI CHERCHELL- ALGERIA
Fella HAMAIDI-CHERGUI, Halla BENKHEIRA, Afafe DEMIAI and Selma HAMAIDI (Algeria)
A46 ECOLOGICAL CHARACTERISTICS OF THE PHYTOPLANKTON COMMUNITY OF THE VOROTAN RIVER (ARMENIA)
Lusine HAMBARYAN, Vardan ASATRYAN (Armenia)
A47 PROMOTING INTEGRATED INVESTIGATION OF THE IMPACTS OF DAM OPERATION ON RESERVOIRS AND DOWNSTREAM RIVERS TO DEVELOP ECOSYSTEM-BASED MANAGEMENT-CRITERIA
Angela BOGGERO, Valeria MEZZANOTTE, Riccardo FORNAROLI, Alberto DORETTO, Silvia QUADRONI, Serena ZACCARA, Paolo ESPA, Giuseppe CROSA (Italy)
A48 ADAPTATION ENHANCES THE POSITIVE EFFECT OF TEMPERATURE ON THE COMPETITIVE ABILITIES OF CYANOBACTERIA
Bogdan DRUGĂ, Elisabeth RAMM, Edina SZEKERES, Cecilia CHIRIAC, Adriana HEGEDUS, Maria STOCKENREITER (Romania/Germany)
A49 GRAZING IMPACT ON LAND DEGRADATION IN THE CURVATURE SUBCARPATHIANS (ROMANIA) – PRELIMINARY RESULTS
Gabriel MINEA, Nicu CIOBOTARU, Gianina NECULAU, Georgiana TUDOR, Sevastel MIRCEA (Romania)


RS2. Climate changing and water resources
B2 IMPACT OF OPEN-PIT MINE ON GOPŁO LAKE HYDROLOGICAL REGIME
Karolina NAWROTEK, Włodzimierz MARSZELEWSKI (Poland)
B3 WATER DEFICIT IN NORTH-EASTERN PART OF ROMANIA
Ionut MINEA, Daniel BOICU, Marina IOSUB, Andrei ENEA (Romania)
B4 INTELLIGENT WATER MANAGEMENT SOLUTION FOR SMART CITIES AND SMART AGRICULTURE
Cristina Mihaela BALACEANU, George SUCIU, Filip CONSTANTIN, Oana ORZA, Sabina BOSOC, Alexandru NEGOITA (Romania)
B5 DEVELOPMENT, ECONOMIC GROWTH, AND SPECIES ENDANGERMENT
Joeri SOL (Netherlands)
B6 CLIMATE CHANGES AND EXTREME WEATHER PHENOMENA
Ovidiu-Răzvan GACEU, Ștefan BAIAS, Cosmin MEȘTER (Romania)
B7 A SIMPLE APPROACH TO ESTIMATE RAINFALL AT DIFFERENT RETURN PERIOD
Nurbaiah MOHAMMAD NOH, Ismail ATAN, Jurina JAAFAR, Yasmin ASHAARI, Mohd BAKRI SAMSUDIN, Mohd Riza KHATIB, Aminuddin BAKI (Malaysia)
B8 LONG-TERM VARIABILITY OF RUNOFF OF THE UPPER NOTEĆ RIVER (CENTRAL POLAND) IN 1981-2016
Katarzyna KUBIAK-WÓJCICKA (Poland)
B9 USING SATELLITE-BASED SOIL MOISTURE FOR DROUGHT ASSESSMENT IN SOUTHEASTERN ROMANIA
Alexandra CHELU, Liliana ZAHARIA, Vincent DUBREUIL, Gabriela IOANA-TOROIMAC (Romania/France)
B10 BASEFLOW IN HORNÁD RIVER BASIN
Patrik NAGY, Martina ZELEŇÁKOVÁ (Slovakia)
B11 A STUDY ON ADSORPTION TECHNIQUE FOR REMOVAL OF HEAVY METAL FROM METAL SOLUTION BY USING DIFFERENT TYPES OF SOIL
Nurasmat MOHD SHUKRI, Farah Shahirah MOHD FAIRUZ, Wan Azelee WAN ABU BAKAR (Malaysia)
B12 THE CLIMATE VARIABILITY OF THE YEAR 2019 IN THE SOUTHERN-WESTERN ROMANIA
Dana Maria (Oprea) CONSTANTIN, Ion MARINICĂ, Andreea Floriana MARINICĂ, Elena GRIGORE, Florina TATU, Gabriela DÎRLOMAN (Romania)
B13 ASSESSMENT OF DROUGHT USING METEOROLOGICAL DROUGHT INDICES AND REMOTE SENSING DATA – A CASE STUDY ON VARNA-BELOSLAV LAKE
Nina NIKOLOVA, Leonid TODOROV, Kalina RADEVA (Bulgaria)
B14 ANALYSIS OF THE RAINFALL VARIABILITY IN THE "MEDITERRANEAN EPISODE" OF SOUTHERN FRANCE
Zeineddin NOUACEUR, Ovidiu MURARESCU, George MURATOREANU, Valentin GEORGESCU (France/Romania)
B15 ASSESSING OF WATER-RELATED RULES IN LOCAL MASTER PLANS AROUND PORTUGUESE VOUGA RIVER BASIN
Carla RODRIGUES, Teresa FIDÉLIS (Portugal)
B16 ADSORPTION OF NICKEL AND CHROMIUM IN AQUEOUS SOLUTION ONTO OIL PALM EMPTY FRUIT BUNCH PELLETS
Nur Fatien MUHAMAD SALLEH, Arinah JASNI (Malaysia)
B17 PRECIPITATION AND FLOW REGIME IN THE UPPER NOTEĆ RIVER CATCHMENT (CENTRAL POLAND) IN THE YEARS 1951-2015
Katarzyna KUBIAK-WÓJCICKA (Poland)
B18 CLIMATE-INDUCED CHANGES IN A MEDITERRANEAN LAKE SINCE THE PRE-INDUSTRIAL PERIOD, ACCORDING TO THE STUDY OF DIATOM COMMUNITIES
Xènia RODRÍGUEZ-MIRET, Valentí RULL, Maria del Carmen TRAPOTE, Joan GOMÀ, Pilar LOPEZ-LASERAS, Teresa VEGAS-VILARRÚBIA (Spain)
B20 AIR TEMPERATURE MODELLING BY UTILIZING GIS STATISTICAL TOOLS
Codruta BADALUTA MINDA, Mihaela PISLEAGA (Romania)
B22 THE FOOTPRINT OF CLIMATE AND LAND-USE CHANGES ON WATER RESOURCES IN SEMI-ARID AREA. CASE STUDY BAKHTEGAN BASIN IN IRAN
Hamidreza SOLAYMANI OSBOOEI (Iran)
B23 HYDROMETEOROLOGICAL EXTREMES ASSOCIATED WITH CLIMATE CHANGE AND THEIR IMPACTS IN KERALA
Shadananan Nair KRISHNAPILLAI (India)
B24 CURRENT STATUS OF WATER RESOURCES IN BAILEȘTI PLAIN AND THE OPPORTUNITIES FOR FUTURE DEVELOPMENT
Lavinia CRISU, Sandu BOENGIU (Romania)
B25 BENTHIC COMMUNITIES OF BUNDELKHAND RIVERS OF INDIAN SUBCONTINENT WITH REFERENCE TO THE PROPOSED KEN-BETWA RIVER LINKAGE
Jyoti VERMA, Prakash NAUTIYAL (India)
B26 MULTIDISCIPLINARITY AND INNOVATIONS IN AGRO-HYDRO-METEOROLOGICAL MONITORING (AgHMM) ON IRRIGATION/DRAINAGE OBJECTS. CONCLUSIONS FROM THE POLISH RESEARCH INOMEL PROGRAM
Bogdan BĄK (Poland)
B27 HYDROLOGICAL MONITORING ON MELIORATIVE OBJECT AS PART OF THE INOMEL PROJECT. CASE STUDY - CZARNY RÓW (NORTH PART OF CENTRAL POLAND)
Tymoteusz BOLEWSKI, Bogdan BĄK (Poland)
B29 HYDROCLIMATIC EVOLUTION IN TROIS RIVIÈRES WATERSHED (NORTH WEST OF ALGERIA)
Amel TALIA (Algeria)
B30 MINIMUM FLOW CHARACTERISTICS IN CRIȘUL NEGRU CATCHMENT
Dan-Mircea MIHALEA, Gheorghe ŞERBAN, Ruth PERJU, Ovidiu GACEU (Romania)
B31 INTEGRATED GEOELECTRICAL AND HYDROGEOLOGICAL STUDIES OF GROUNDWATER AQUIFERS IN THE AREA NORTH-WEST ASSUIT DISTRICT, EGYPT
Esam ISMAIL, Mohamed HELIEKIA, Ahmed ABDELHALIM (Egypt)
B32 CONTRIBUTION TO THE MANAGEMENT OF THE WATER RESOURCES OF THE ISSER WATERSHED USING WEAP
Djafer Khodja HAKIM, Cherif El AMINE, Dahmani SAAD, Ferhati AHMED, Baloul DJOUHRA, Rezig AMINA (Algeria)
B33 HYBRID SYSTEM COMBINING CHEMICAL, PHOTOCHEMICAL AND ULTRASOUND REACTORS FOR WASTEWATER TREATMENT
Gabriel Dan SUDITU, Adrian Cătălin PUIȚEL, Cătălin Dumitrel BĂLAN, Elena Niculina DRĂGOI, Vlad DAFINESCU, Loredana PINTILIE, Mircea-Teodor NECHITA (Romania)
B34 EFFECTS OF TEMPERATURE ON FRESHWATER MACROINVERTEBRATES
Luca BONACINA, Angela BOGGERO, Valeria MEZZANOTTE, Riccardo FORNAROLI (Italy)
B35 SMART CONTROL OF THE CLIMATE RESILIENCE OF EUROPEAN COASTAL CITY (SCORE) HORIZON 2020 - COASTAL CITY LIVING LAB - CASE OF GDAŃSK
Katarzyna Barańczuk, Jacek Barańczuk (Poland)
B36 ASSESSMENT OF THE SOLAR RADIATION AVAILABILITY FOR AQUATIC MACROPHYTES ASSOCIATIONS FROM POENI WETLAND ON GLAVACIOC RIVER, ROMANIA
Daniel DUNEA, Petre BREȚCAN, Gheorghe SERBAN, Nicolae PETRESCU, Dănuț TANISLAV, Daniel SANISLAI (Romania)

RS3. Coastal environment
C2 THE INTERANNUAL VARIABILITY OF THE STRUCTURAL CHARACTERISTICS OF PHYTOPLANKTON, ITS SPECIFIC GROWTH RATE AND MICROZOOPLANKTON GRAZING IN THE SURFACE LAYER OF THE SEVASTOPOL BAY (BLACK SEA)
Liudmila STELMAKH, Tatiana GORBUNOVA (Russia)
C3 OXIDATIVE STRESS INDEX AS BIOMARKER OF THE STATE OF BULGARIAN BLACK SEA COASTAL ECOSYSTEMS: A PILOT STUDY ON BIVALVES
Albena ALEXANDROVA, Luchezar YAKIMOV, Elina TSVETANOVA, Almira GEORGIEVA, Nesho CHIPEV (Bulgaria)
C4 ZOOPLANKTON BIOMASS, SIZE AND SEASONAL DISTRIBUTION IN TWO SHALLOW LAGOONS IN TURKEY
Kerem Veysel KORUCU, Nuray EMIR AKBULUT (Turkey)
C5 THE INTERANNUAL VARIABILITY OF THE STRUCTURAL CHARACTERISTICS OF PHYTOPLANKTON, ITS SPECIFIC GROWTH RATE AND MICROZOOPLANKTON GRAZING IN THE SURFACE LAYER OF THE SEVASTOPOL BAY (BLACK SEA)
Liudmila STELMAKH, Tatiana GORBUNOVA (Russia)
C6 DEVELOPING A MODEL FOR MANGROVES AND FISHERIES RESOURCE MANAGEMENT
Jimmy T. MASAGCA, Abelisa D.G. EAVANGELISTA, Ma. Luz A. FLORALDE (Philippines)
C7 DEVELOPING A MODEL FOR MANGROVES AND FISHERIES RESOURCE MANAGEMENT
Jimmy T. MASAGCA, Ryan Paul C. BRILLANTE, Lily P. CUSTODIO, Herman L. SABEŃIANO, Abelisa D.G. EAVANGELISTA, Ma. Luz A. FLORALDE (Philippines)
C8 POPULATION PRESSURE ON LANDUSE/ LANDCOVER DYNAMIC OF CHILIKA CATCHMENT, ODISHA
Adikanda OJHA, Jajnaseni ROUT (India)
C9 VARIATION OF LAND-SOURCE MARINE POLLUTANTS AT THE ESTUARIES OF YANGTZE AND HUANGPU RIVERS
Jiancheng KANG (China)
C10 LINKING TRAWL SELECTIVITY AND WHITING OXIDATIVE STRESS RESPONSE INTO SUSTAINABLE FISHERY MANAGEMENT
Yordan RAEV, Violin RAYKOV, Konstantin PETROV, Nesho CHIPEV, Elina TSVETANOVA, Almira GEORGIEVA, Albena ALEXANDROVA (Bulgaria)
C11 BIODIVERSITY OF RECENT DIATOM TAPHOCOENOSES IN THE PUCK LAGOON (SOUTHERN BALTIC SEA)
Dominika HETKO, Małgorzata WITAK (Poland)
C12 WILL GLOBAL WARMING ENHANCE GREENHOUSE GAS EMISSIONS FROM LAKES? INSIGHTS FROM ARTIFICIALLY HEATED LAKE IN POLAND
Michał WOSZCZYK, Sławomir CERBIN (Poland)

RS4. Deltas and wetlands
D2 ALDROVANDA VESICULOSA – POPULATION STATUS AND SPECIES PROTECTION IN EASTERN POLAND
Barbara BANACH-ALBIŃSKA, Marzena PARZYMIES, Magdalena POGORZELEC (Poland)
D3 MONITORING AND MANAGEMENT WETLANDS OF EAST EUROPE - AQUATIC WARBLER ACROCEPHALUS PALUDICOLA AND OTHER WETLAND BIRDS IN DANGER FROM COAL MINING SECTOR
Grzegorz GRZYWACZEWSKI, Ignacy KITOWSKI (Poland)
D5 DIVERSITY OF LITTORAL ARTHROPODS OF ESTUARIES
Marina KIRICHENKO-BABKO, Yaroslav DANKO, Jaroslava DANYLKIV, Jacek ZABURKO, Joanna SZULŻYK-CIEPLAK, Grzegorz ŁAGÓD (Ukraine/Poland)
D6 BOTTOM MORPHOLOGY CHANGES OF THE VISTULA RIVER SUBAQUEOUS DELTA
Kazimierz SZEFLER, Aliaksandr LISIMENKA, Jacek KOSZAŁKA (Poland)
D7 THE PROCEDURE OF HABITAT SELECTION FOR THE REINTRODUCTION OF THE ENDANGERED SALIX LAPPONUM IN POLAND
Magdalena POGORZELEC, Barbara BANACH-ALBIŃSKA, Agnieszka SZCZUROWSKA, Michał NIEDŹWIECKI (Poland)
D8 PRELIMINARY DATA ON THE REINTRODUCTION METHOD EFFICIENCY OF ENDANGERED RELICT PLANT SPECIES OF PEAT BOGS IN THE CENTRAL PART OF EASTERN POLAND
Agnieszka SZCZUROWSKA, Magdalena POGORZELEC, Barbara BANACH-ALBIŃSKA (Poland)
D9 MONITORING AND MANAGEMENT WETLANDS OF EAST EUROPE - AQUATIC WARBLER ACROCEPHALUS PALUDICOLA AND OTHER WETLAND BIRDS IN DANGER FROM COAL MINING SECTOR
Grzegorz GRZYWACZEWSKI, Ignacy KITOWSKI (Poland)
D10 NITROGEN REMOVAL IN AN ENGINEERED MULTISTAGE CONSTRUCTED WETLAND SYSTEM
Mishari KHAJAH, Abdullah ALMATOUQ (Kuwait)
D11 VEGETATION DYNAMICS OF MALYI TATAR (DANUBE DELTA, UKRAINE) DUE TO THE ANTHROPIC TRANSFORMATION OF ITS ECOSYSTEMS
Dmytro DUBYNA (Ukraine)
D12 RUDERAL VEGETATION OF THE DANUBE MOUTH OF THE RIVER (UKRAINE) AND THE MOST EFFECTIVE MEASURES OF ITS RESTRUCTURING OPTIMIZATION
Dmytro DUBYNA, Nathalie IEREMENKO, Pavlo USTIMENKO, Tetyana DZIUBA, Luidmila VAKARENKO, Svitlana IEMELIANOVA (Ukraine)
D13 ROLE OF WETLAND ECOSYSTEMS IN WATER QUALITY FORMATION IN TRANSBOUNDARY TERRITORIES OF THE AMUR REGION
Victoria KUPTSOVA, Vladimir CHAKOV, Elena Zakharchenko (Russia)
D14 PHENOMENA STUDY OF ACCUMULATION OF TRACE ELEMENTS AND RARE EARTH ELEMENTS IN THE SURFACE AQUATIC SYSTEMS, THE SEBKHAS AND CHOTTS: CASE OF BASE ALGERIAN SAHARA
Messaoud HACINI (Algeria)
D15 BALANCING NONPOINT SOURCE WATER QUALITY MANAGEMENT WITH WETLAND AND STREAM PRESERVATION: LESSONS LEARNED
Andrew DER (USA)
D16 SOCIO-ECONOMIC IMPACT OF LAND-USE/COVER CHANGE IN A HIMALAYAN WETLAND: A CASE STUDY OF PONG DAM LAKE, KANGRA, HIMACHAL PRADESH
Maansi Malik, S.C. Rai (India)
D17 BIODIVERSITY AND ITS REVALUATION TROUGH NATURE TOURISM, INCLUDING WETLANDS. STUDY CASE: ROMANIA
Tamara SIMON, Mădălina-Teodora ANDREI (Romania)
D18 ASSESSING THE LITHOLOGICAL COMPOSITION OF CORE SEDIMENT SAMPLES TO INVESTIGATE THE INFLUENCE OF NATURAL AND ANTHROPOGENIC STRESSORS
Irina CATIANIS, Adriana Maria CONSTANTINESCU, Laura TIRON DUȚU, Dumitru GROSU, Oana DOBRE, Cătălin GHEABLĂU (Romania)

RS5. Water policies
E4 ASSESSMENT OF SUSTAINABLE DEVELOPMENT CHALLENGES WITHIN A SUBURBAN LACUSTRINE COMPLEX (CRAIOVA, ROMANIA)
Oana MITITELU-IONUȘ, Cristina ȘOȘEA (Romania)
E5 SPATIAL PLANNING IN SERBIA: TOURISM DEVELOPMENT BASED ON WATER BODIES IN PROTECTED AREAS
Marijana PANTIĆ, Saša MILIJIĆ (Serbia)
E7 WATER MANAGEMENT WITH GREEN INFRASTRUCTURES IN ENSURING SUSTAINABILITY OF TURKISH CITIES
Mehmet Emin BİRPINAR, Çiğdem TUĞAÇ (Turkey)
E9 SOLUTION FOR MOVING FISH OVER DISCHARGE SILLS WITH ROTATING CYLINDERS
Răzvan VOICU, Liliana VOICU, Joseph D. URBANI, Artur RADECKI-PAWLIK, Karol Plesinski (Romania/USA/Poland)
E10 THE HYDROMOPHOLOGICAL ASSESSMENT OF RIVERS FROM THE PERSPECTIVE OF AUSTRIA COMPARED WITH THE ROMANIAN METHODOLOGY. CASE STUDY: BRATIA RIVER
Iulia LUPU, Ruth PERJU (Romania)
E11 WATER CONSUMPTION AND MEGACITIES - SOME FACTS AND ISSUES
Kliment NAYDENOV (Bulgaria)
E12 METHODOLOGICAL ELEMENTS OF BENEFIT COST ANALYSIS FOR HYDROGRAPHIC BASIN
Daniela ANTONESCU, Victor PLATON (Romania)
E13 TOURIST DEVELOPMENT OF COASTAL AREAS IN THE PERIOD OF POLAND'S INTEGRATION WITH THE EU
Anna DUBOWNIK, Barbara SZYDA (Poland)
E14 ASSESSING THE APPLICABILITY OF LOW-COST SOIL MOISTURE SENSORS
Abdulla ALSHAHRI (Germany)
E15 THE REGULATIONS CONCERNING THE WATER QUALITY OF THE RIVERS IN KOREA AND BULGARIA
Jiyoung PARK, Emilia VARADINOVA, Lidia SAKELARIEVA (Bulgaria)
E16 WETLANDS OF EAST POLAND IN THE GRADIENT OF COAL MINE SECTOR
Grzegorz GRZYWACZEWSKI, Ignacy KITOWSKI (Poland)
E17 PHYSICO-CHEMICAL AND MICROBIOLOGICAL EVALUATION OF THE RESIDUAL SLUDGE FROM THE BENI-MERED TREATMENT PLANT
Yacine BOUTEKFA, Loubna HADJ SADOUK and Fella HAMAIDI-CHERGUI (Algeria)
E18 WATER PROJECT
Mária ŠUGAREKOVÁ, Martina ZELEŇÁKOVÁ (Slovakia)
E19 THE WATER QUALITY ASSESSMENT OF SITNICA RIVER AND ITS PROTECTION MEASURES
Besime Kajtazi (Kosovo)
E20 DANUBE DELTA, TOURIST POTENTIAL AND IMPACT OF TOURIST ACTIVITY ON THE ENVIRONMENT
Elena TOMA (Romania)

Thematic session
TS1. Microplastic in water and environment
Chairman: Friederike Gabel
TS1-1 ALL RIVERS FLOW INTO THE OCEAN – ALL THEIR PLASTIC TOO? (TEMPORAL) SINKS OF MICROPLASTICS IN FRESHWATERS
Friederike GABEL (Germany)
TS1-2 Served on a plastic plate - Testing the nutritional value of plastic-associated biofilm for the freshwater pulmonate Physa fontinalis
Diana MICHLER-KOZMA, Friederike GABEL (Germany)
TS1-3 MICROPLASTICS IN SHALLOW COASTAL AREAS OF BRAZIL: A REVIEW OF SOURCES, EFFECTS AND MAIN SOLUTIONS
Jaciela Gabriele LANGE, Alexandre Clistenes DE ALCÂNTARA SANTOS (Brasil)

TS2. Impact of Anthropogenic activity in Mediterranean watersheds
Chairman: Angela Boggero
TS2-1 ECOLOGICAL FACTORS AFFECTING THE DISTRIBUTION OF THE INVASIVE CRAYFISH ORCONECTES LIMOSUS IN THE SUBALPINE LAKE MAGGIORE
Laura GARZOLI, Stefano MAMMOLA, Marzia CIAMPITTIELLO, Angela BOGGERO (Italy)
TS2-2 LAKE MAGGIORE AND ITS PROTECTED NATURAL AREAS: VERIFICATION AND TESTING OF SUSTAINABLE AND SHARED MANAGEMENT SCENARIOS
Angela BOGGERO, Tiziana DI LORENZO, Nicoletta RICCARDI, Marzia CIAMPITTIELLO (Italy)
TS2-3 NITROGEN AND PHOSPHORUS TRANSPORT THROUGHOUT WATERSHEDS AND THEIR RESPONSE TO LAND USE CHANGES AND HYDROLOGY IN THE PO RIVER BASIN (ITALY)
Daniele Nizzoli, Elisa Soana, Pierluigi Viaroli (Italy)
TS2-4 LAKES PAIONE (NW ITALY): TRENDS IN WATER CHEMISTRY, MACROINVERTEBRATES AND ACIDIFICATION INDICES OVER THE LAST 30 YEARS
Angela BOGGERO, Riccardo FORNAROLI, Daniele PAGANELLI, Silvia ZAUPA, Elzbieta DUMNICKA2, Michela ROGORA (Italy)
TS2-5 TESTING THE EFFECTS OF WATER LEVEL MANAGEMENT ON THE LITTORAL FAUNA OF A DEEP AND LARGE TEMPERATE LAKE (LAKE MAGGIORE, NW ITALY) USED AS A CASE STUDY
Angela BOGGERO, Lyudmila KAMBURSKA, Daniele PAGANELLI, Silvia ZAUPA, Michela ROGORA, Marzia CIAMPITTIELLO, Marco CIFONI, Tiziana DI LORENZO (Italy)
TS2-6 ANTHROPOGENIC POLLUTION OF WATER RESOURCES AND ECOHYDROLOGICAL SOLUTIONS FOR QUALITY IMPROVEMENT
Edyta KIEDRZYŃSKA, Marcin KIEDRZYŃSKI, Joanna MANKIEWICZ-BOCZEK, Maciej ZALEWSKI (Poland)
TS2-7 TESTING THE EFFECTS OF WATER LEVEL MANAGEMENT ON THE LITTORAL FAUNA OF A LARGE DEEP TEMPERATE LAKE (LAKE MAGGIORE, NW ITALY) USED AS A CASE STUDY
Daniele PAGANELLI, Lyudmila KAMBURSKA, Silvia ZAUPA, Michela ROGORA, Marzia CIAMPITTIELLO, Marco CIFONI, Tiziana DI LORENZO, Angela BOGGERO (Italy)
TS2-8 IMPACTS ANALYSIS OF MACROINVERTEBRATE ALIEN SPECIES IN THE HYDROGRAPHIC SYSTEM OF A SUBALPINE LAKE ON THE ITALIAN-SWISS BORDER
Daniele PAGANELLI, Lyudmila KAMBURSKA, Silvia ZAUPA, Laura GARZOLI, Angela BOGGERO (Italy)

TS3. Connectivity of Inland Waters (River conectivity, Habitat Structure, Fragmentation and Biodiversity)
Chairman: Takashi Asaeda
TS3-1 NEW METHOD TO IDENTIFY THE COLONIZATION LEVEL OF RIPARIAN VEGETATION SPECIES
Takashi ASAEDA, Md Harun RASHID, Mizanur RAHMAN, Fumiko IMAMURA (Japan)
TS3-2 RIVERS AND WETLANDS ENSURE THE EXISTENCE OF BIODIVERSITY HOTSPOTS IN URBAN AREAS
Ignacy KITOWSKI, Marcin ŁOPUCKI (Poland)
TS3-3 TESTING EFFECTS OF WATER RETENTION TIME ON PHYTOPLANKTON DYNAMICS IN CONNECTED LAKE ECOSYSTEMS IN A LARGE-SCALE ENCLOSURE EXPERIMENT
Stella A BERGER, Sabine WOLLRAB, Jens C. NEJSTGAARD, Christine KIEL, Igor OGASHAWARA, Andreas JECHOW, Katrin KOHNERT, Isimemen OSEMWEGIE, Lena MELLIN, Hans-Peter GROSSART, Gabriel SINGER, Franz HÖLKER, Thomas RUHTZ, Jürgen FISCHER, Gunnar LISCHEID, and the CONNECT LakeLab-Team (Germany)
TS3-4 GO WITH THE FLOW - PHYTOPLANKTON DYNAMICS IN RIVER-CONNECTED GERMAN LOWLAND LAKES
Christine KIEL, Igor OGASHAWARA, Andreas JECHOW, Katrin KOHNERT, Jens C NEJSTGAARD, Hans-Peter GROSSART, Gabriel SINGER, Franz HÖLKER, Jürgen FISCHER, Thomas RUHTZ, Peter GEGE, Torsten SACHS, Gunnar LISCHEID, Thomas SCHNEIDER, Sabine WOLLRAB, Stella A. BERGER and the CONNECT Lake-Team (Germany/Austria)
TS3-5 FACTORS DETERMINING INTER-SPECIES AND INTER-COLONY DIFFERENCES IN HEAVY METAL AND ESSENTIAL ELEMENTS CONCENTRATIONS IN EGGSHELLS OF SYMPATRICALLY NESTING GREAT CORMORANTS PHALACROCORAX CARBO AND GREY HERONS ARDEA CINEREA
Ignacy KITOWSKI, Dariusz JAKUBAS, Grzegorz GRZYWACZEWSKI, Dariusz WIĄCEK, Szymon BZOMA (Poland)
TS3-6 CHANGES IN STRUCTURE AND FUNCTIONAL COMPOSITION OF LOW DNIESTER MACROZOOBENTHIC COMMUNITIES UNDER THE HYDROPOWER PLANT CONSTRUCTION INFLUENCE AND CLIMATE CHANGE (1950TH - 2020TH)
Tatiana CHUZHEKOVA, Svetlana KOVALISHINA (Ukraine)
TS3-7 FEATURES OF THE IMPACT OF WASTEWATER FROM WASTEWATER TREATMENT PLANTS DISCHARGE ON HYDROECOSYSTEMS OF MOUNTAIN AND LOWLAND RIVERS
Roman BABKO, Tatiana KUZMINA, Volodymyr PLIASHECHNYK, Yaroslav DANKO, Jacek ZABURKO, Joanna SZLUŻYK-CIEPLAK, Grzegorz ŁAGÓD (Ukraine/Poland)
TS3-8 COMPARATIVE ASSESSMENT OF HABITAT STRUCTURE OF SOME SELECTED MICROHABITATS OF PLATEAUS IN WESTERN GHATS, MAHARASHTRA, INDIA
Priti Vinayak APHALE, D.C. Meshram and D.M. MAHAJAN, Prasad Anil KULKARNI, Shraddha Prasad KULKARNI (India)

TS4. Remote sensing and GIS - support for monitoring of inland waters
Chairman: Thomas Schneider
TS4-1 SURVEY AND STATUS DESCRIPTION OF AQUATIC REED BEDS AT LAKE CHIEMSEE, GERMANY, USING LOW-COST UAV AND HIGH-END PASSIVE AND ACTIVE AIRCRAFT SYSTEMS
Simon BEIER, Nicolas CORTI, Thomas SCHNEIDER (Germany)
TS4-2 SENTINEL-2 TIME SERIES FOR MAPPING THE SPATIO-TEMPORAL DEVELOPMENT OF SUBMERGED AQUATIC VEGETATION AT LAKE STARNBERG (GERMANY)
Christine FRITZ, Katja KUHWALD, Natascha OPPELT, Thomas SCHNEIDER (Germany)
TS4-3 SATELLITE SURVEY OF RESTORED RIVER SITES. CASE STUDIES IN ROMANIA
Gabriela IOANA-TOROIMAC, Liliana ZAHARIA, Gabriela Adina MOROȘANU, Alexandra CHELU (Romania)
TS4-4 REMOTE SENSING AND IN-SITU MONITORING OF RIVER-CONNECTED GERMAN LOWLAND LAKES
Andreas JECHOW, Igor OGASHAWARA, Christine KIEL, Katrin KOHNERT, Jens C NEJSTGAARD, Hans-Peter GROSSART, Gabriel SINGER, Franz HÖLKER, Jürgen FISCHER, Thomas RUHTZ, Peter GEGE, Maximilian BRELL, Thomas SCHNEIDER, Bert PALM, Paul REMMLER, Jan BUMBERGER, Sabine WOLLRAB, Stella A. BERGER and the CONNECT Lake-Team (Germany/Austria)
TS4-5 SURVEY AND STATUS DESCRIPTION OF AQUATIC REED BEDS AT LAKE CHIEMSEE, GERMANY, USING LOW-COST UAV AND HIGH-END PASSIVE AND ACTIVE AIRCRAFT SYSTEMS
Simon BEIER, Nicolas CORTI, Thomas SSCHNEIDER (Germany)
TS4-6 MACHINE LEARNING FOR MISSING VALUE OF WATER DATA IN A MOROCCAN SOUTH-EASTERN BASIN
Aniss MOUMEN, Mohamed EL BOUHADDIOUI, Gabriela Adina MOROȘANU, Abderrahman MAHBOUB (Morocco)
TS4-7 HYSTERETIC BEHAVIOR OF LIQUID DISCHARGE AND SUSPENDED SEDIMENTS CONCENTRATION DURING FLOODS IN THE JIU RIVER BASIN (ROMANIA)
Gabriela Adina MOROȘANU, Jérémy BONNEFOUS, Liliana ZAHARIA, Gabriel MINEA, Gabriela IOANA – TOROIMAC (Romania/France)
TS4-8 CORRELATION BETWEEN TOTAL SUSPENDED SOLIDS CONCENTRATION AND SENTINEL 2 DATA IN THE WATER OF LAKE SEVAN
Azatuhi HOVSEPYAN, Garegin TEPANOSYAN, Vahagn MURADYAN, Shushanik ASMARYAN (Armenia)
TS4-9 INVESTIGATING TREND OF THE VEGETATIVE COVER VARIATIONS IN ARID AND HYPER-ARID PLAINS BY THE USE OF MODIS NDVI PRODUCTS (CASE STUDY: SISTAN PLAIN IN EASTERN IRAN)
Peyman MAHMOUDI, Fatemeh FIROOZI (Iran)
TS4-10 FLOOD DYNAMICS AND RISK MANAGEMENT AT THE ESTUARY OF GIANH RIVER: ARE MEASURES ABLE TO REDUCE RISKS SATISFACTORILY?
Huu Duy NGUYEN, Quang-Thanh BUI (Vietnam)
TS4-11 INTEGRATED ECOSYSTEM ECOLOGY (CHLOROPHYLL-A) OF EYDAP'S RESERVOIRS PROFILES BY USING ROBOTIC BOATS
Georgios KATSOURAS, Michalis CHALARIS, Nikos TSALAS, Alekos DOSIS, Stylianos SAMIOS, Efthymios LYTRAS, Kostas PAPADOPOULOS, Antigoni SYNODINOU (Greece)
TS4-12 GIS-BASED HYDRO-GEOMORPHOLOGICAL HAZARDS AND ANTHROPOGENIC IMPACT ASSESSMENT INSIDE HALMYRIS FORTRESS ON THE EASTERN FLANK OF THE DANUBE LIMES
Alin MIHU-PINTILIE, Cristian TRIFANOV (Romania)


TS5. Aquatic toxicology & Aquatic microbiology
Chairmans: Piotr Klimaszyk & Piotr Rzymski
TS5-1 SAFETY AND TOXICITY OF MICROALGAL FOOD SUPPLEMENTS: OVERVIEW OF FIVE YEARS RESEARCH EXPERIENCE
Piotr RZYMSKI, Piotr KLIMASZYK (Poland)
TS5-2 DEVELOPING THE TECHNOLOGY FOR MONITORING GENOTOXICITY CAUSED BY DESALINATION PLANTS OUTFLOW
Amalia ROSNER, Yaara GROSSMARK, Baruch RINKEVICH (Israel)
TS5-3 DARK SIDE OF CHEMICAL RESTORATION OF LAKES
Piotr KLIMASZYK, Michał RYBAK, Tomasz JONIAK, Agnieszka DREWEK (Poland)
TS5-4 IDENTIFICATION OF GENETIC MARKERS OF CYANOBACTERIAL TOXINS IN LAKE SEVAN. MOLECULAR BIOLOGICAL APPROACH TO WATER QUALITY ASSESSMENT.
L.R. HAMBARYAN, N.A. HOVHANNISYAN, L.G. STEPANYAN, S.S. YESOYAN (Armenia)
TS5-5 HUMAN IMPACT ОN THE HEAVY METALS' CОNTENT IN THE RIVER SEDIMENTS: THE CASE ОF SAZLIYKA RIVER CATCHMENT, BULGARIA
Dimitar ZHELEV (Bulgaria)
TS5-7 PLANKTONIC CILIATE ASSEMBLAGES IN DIFFERENT TYPES OF POOLS IN TEMPERATE, TROPICAL, AND POLAR CLIMATE ZONES–IMPLICATIONS FOR CLIMATE CHANGE
Tomasz MIECZAN, Urszula BRONOWICKA-MIELNICZUK (Poland)
TS5-8 EFFECT OF CYANOBACTERIAL BLOOMS IN FRESHWATER ECOSYSTEMS ON THE TOTAL NUMBER OF HETEROTROPHIC BACTERIA
Emilia JANKOWIAK1, Ewa DEMBOWSKA (Poland)
TS5-9 ECOLOGY OF FAECAL BACTERIA: OCCURRENCE AND ANTIBIOTIC RESISTANCE IN THE URBANIZED SECTION OF THE BRDA RIVER
Łukasz KUBERA (Poland)
TS5-10 TOXIGENIC CYANOBACTERIA IN BYSTRZYCA RIVER (E. POLAND) BEYOND THE ZEMBORZYCKI DAM RESERVOIR
Barbara PAWLIK-SKOWROŃSKA, Magdalena TOPOROWSKA (POLAND)
TS5-11 MICROBIOLOGICAL CONTAMINATION OF WATER IN URBAN FOUNTAINS
Marta MAŁECKA-ADAMOWICZ (Poland)
TS5-12 MONITORING OF PLANT PROTECTION PRODUCTS IN SMALL WATER BODIES LOCATED IN THE AGRICULTURAL LANDSCAPE OF NORTHERN GERMANY
Marlen HEINZ, Stefan LORENZ, Matthias STÄHLER (Germany)
TS5-13 HYDROGEN PEROXIDE CAN BE A PLAUSIBLE BIOMARKER IN CYANOBACTERIAL RESPONSES TO PHOTOINHIBITION
Mizanur RAHMAN, Takashi ASAEDA, Helayaye Damitha Lakmali ABEYNAYAKA (Japan)
TS5-14 HISTOPATHOLOGY AND MICRONUCLEI INDUCTION IN COMMON CARP, CYPRINUS CARPIO FROM SOUTH OF IRAQ
Amaal Gh. YASSER, Murtada D. NASER , Lebepe JEFFREY (Iraq)
TS5-15 EFFECTS OF THERMAL STRATIFICATION ON BACTERIAL COMMUNITY COMPOSITION THROUGHOUT WATER COLUMN IN A DEEP LAKE
E.Gozde ÖZBAYRAM, Latife KOKER, Reyhan AKÇAALAN, Fatih AYDIN, Meriç ALBAY (Turkey)
TS5-16 ADAPTATION ENHANCES THE POSITIVE EFFECT OF TEMPERATURE ON THE COMPETITIVE ABILITIES OF CYANOBACTERIA
Bogdan DRUGĂ, Elisabeth RAMM, Edina SZEKERES, Cecilia CHIRIAC3, Adriana HEGEDUS, Maria STOCKENREITER (Romania/Germany)