Abstract
Authors are invited to submit abstracts (800 words - max 1 page A4) in electronic form until 30 March 2016. Submitted abstract should include the title, author, address, body of abstract, and six key words. Please list the full first and last names of each author. Abstracts must concisely describe the study or topic in detail. Abstracts received will be published in the Book of Abstracts (on paper). Author(s) of the papers presented at the conference are encouraged to submit article to the following journals: Annals of Valahia University of Targoviste - Geographical series and Lakes reservoirs and ponds.
Abstracts should be sent as a part of the registration form. Send your abstract to: geg2016@limnology.ro.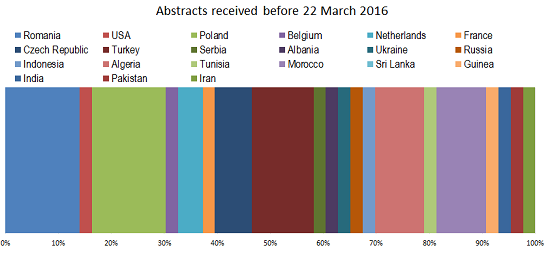 A1 FOREST – WATERSHED HYDROLOGY INTERACTIONS IN THE UPPER SECTOR OF JIU RIVER BASIN, ROMANIA
Moroșanu Gabriela Adina (Romania)
A2 RECOGNITION OF THE PATTERNS OF HUMAN SPATIAL ACTIVITY AT THE MAIN CITY SQUARE IN LIMA (PERU), USING SURVEY AND GIS METHODS
Wojciech Ewertowski, Beata Latos (Poland)
A3 GEOGRAPHY OF SERVICE INDUSTRIES IN SERBIA
Aljoša Budović, Danica Djurkin (Serbia)
A4 FLOOD RISK POTENTIAL ASSESSMENT IN AKARCAY SINANPASA SUBBASIN USING GIS TECHNIQUES
Emin Tas (Turkey)
A5 NOVEL GIS APPROACHES TO WATERSHED SCIENCE AND MANAGEMENT: DESCRIPTION, PREDICTION, AND INTEGRATION
Murray W. Scown, Joseph E. Flotemersch, Michael G. McManus (USA)
A6 RELATIONSHIP BETWEEN RAINY DAY WITH MARINE TOURISM ACTIVITIES IN SENGGIGI BEACH AND SEKOTONG BEACH, WEST LOMBOK
Dita Wahyu primastuti, Rhefita Ardhana Riswari (Indonesia)
A7 DANUBE – RIVER OF COOPERATION BETWEEN SERBIA AND ROMANIA
Vojislav Dedjanski, Marko Langovic (Serbia)
A8 CLIMATOLOGY OF GUINEA
Rene Tato Loua (Guinea)
A9 RECENT TRENDS IN THE PREAJBA VALLEY LAKES VEGETATION COVER
Avram Marga Elena (Romania)
A10 THE INFLUENCE OF RELATIONSHIPS BETWEEN ORGANISMS TO DIVERSIFY COMMUNITIES IN VACARESTI LAKE CASE
Catalin Danut Diaconu (Romania)
A11 PARTICULARITIES OF THE LIQUID DRAIN IN THE RIVER BASIN OF BISTRIŢA (OLT)
Elena Turcescu, Diana-Alexandra Giurgiu, Cristina-Mihaela Lungu (Romania)
A12 MODELLING AFRICAN BUFFALO AND CATTLE CONTACT RISK IN FOOT-AND-MOUTH DISEASE CONTROL ZONE BASED ON FINE-SCALE EO DATA ON VEGETATION QUALITY AND QUANTITY
Kaszta Ż., Marino J., Wolff E., Sillero-Zubiri C., Cushman S.A. (Belgium)
A13 THE EFFECTS OF LARGE SCALE METEOROLOGICAL PATTERNS OVER THE LIQUID FLOW (ARGEȘ-VEDEA CATCHMENT AREA)
Costea Cosmin (Romania)
A14 ASPECTS OF ENVIRONMENTAL GEOLOGY IN BUZAU MOUNTAINS
Constantin Iuliana  (Romania)
A15 PALEONTOLOGICAL EVIDENCES OF PLEISTOCENE, INTERPRET THE HARBOR LIFE OF PLANET EARTH
Aravinda Ravibhanu Sumanarathna (Sri Lanka)
A16 CONSIDERATIONS UPON THE RELATION BETWEEN THE CLIMATE AND THE MAIZE CROPS IN THE CENTRAL BĂRĂGAN PLAIN. CASE STUDY: THE AGRICULTURAL YEAR
2011 – 2012.
Antonescu Marina Aurelia, Ibănescu Marina Georgiana, Răducan Ruxandra-Maria (Romania)
A17 ASSESSMENT OF TOURISM POTENTIAL IN THE FOSSIL POINT MLACA
Tatulea Iuliana Alexandra (Romania)
A18 ECONOMIC IMPACT OF ACCOMMODATION STRUCTURES ON THE LOCAL TERRITORIAL SYSTEM
Barbu Constantin Ionuţ, Stănilă Andreea (Romania)
A19 SERVICES OF GENERAL INTEREST AND TERRITORIAL SUSTAINABILITY IN ROMANIA
Drugan Oana Nicoleta, Stănilă Cristian (Romania)
A20 SOCIO-ECONOMIC VALENCES OF RURAL AREAS AND TERRITORIAL COHESION IN THE TECUCI PLAIN
Stănilă Cristian, Drugan Oana Nicoleta (Romania)
A21 ANALYSIS OF TOURISM IN PROTECTED NATURAL AREAS IN VRANCEA COUNTY
Stănilă Andreea, Barbu Ionuț (Romania)
A22 THE ANALYSIS OF CRAIOVA MUNICIPALITY PERIURBAN AREA DYNAMICS IN THE POST-COMMUNIST PERIOD
Trandafir Răzvan Costinel, Stoica Marius Octavian (Romania)
A23 UNEMPLOYMENT DYNAMICS AND POVERTY PERCEPTION IN THE ROMANIAN LOWER DANUBE VALLEY, CORABIA - ZIMNICEA SECTOR
Laura Lepădatu (Romania)
A24 LANDSLIDES IN THE  PIEDMONTAN AREA OF THE POTOP  BASIN
Aura Marina Voinea (Romania)
A25 VULNERABILITY TO NATURAL HAZARDS. CASE STUDY - MALU CU FLORI (DAMBOVITA COUNTY)
Roxana Nedelcu, Stancu Ligia, Nicolescu Mihăiță (Romania)
A26 LAND INSTABILITY PROCESSES IN HOMORACIU (TELEAJEN BASIN)
Ionescu Veronica  (Romania)
A27 LAND USE AND ENVIRONMENTAL QUALITY WITHIN THE ADMINISTRATIVE TERRITORY VILLAGE OF HULUBEŞTI, DAMBOVIŢA COUNTY
Cârstea Maria (Romania)
A28 LOTRU-CIUNGET HYDROPOWER PLANT - A COMPLEX CONSTRUCTION WITH ECONOMIC EFFICIENCY AND LOW ENVIRONMENTAL IMPACT
Stancu Valentin-Irinel (Romania)
B1 FARM HOUSEHOLDS' VULNERABILITY TO SALTWATER INTRUSION AND FLOODING IN PYAPON DISTRICT, DELTA REGION OF MYANMAR
Aung Tun Oo, Guido Van Huylenbroeck, Stijn Speelman (Belgium)
B2 EVALUATION OF ENVIRONMENTAL IMPACTS GENERATED BY BIODIESEL PRODUCTION FROM SOYBEAN
Cristina Ghinea (Romania)
B3 FLOWERING EFFECT ON THE HYPERSPECTRAL CHARACTERISTICS OF GRASSLAND
Ahmet Karakoç & Murat Karabulut (Turkey)
B4 RECOVERY OF NICKEL IONS FROM ELECTROPLATING WASTEWATER USING POLYMER MEMBRANES WITH COMMERCIAL PLANT EXTRACT  
Căprărescu Simona, Purcar Violeta, Radu Anita-Laura, Ianchiş Raluca, Miron Alexandra Raluca (Romania)
B5 EFFECT OF NACL BATH ON BIOCHEMICAL RESPONSE OF RAINBOW TROUT AFTER TREATMENT OF PROLIFERATIVE KIDNEY DISEASE.
Blahová, Jana; Modrá, Helena, Palíková, Miroslava, Enevová, Vladimíra, Svobodová, Z (Czech Republic)
B6 THE EFFECTS OF ANTIDEPRESSANTS MIXTURE ON ZEBRAFISH EMBRYO
Lucie Plhalova, Pavla Sehonova, Dagmar Farkova, Lenka Vecerkova, Zdenka Svobodova (Czech Republic)
B7 POLITICAL ECOLOGY OF FISHERIES AND POACHING IN THE DANUBE DELTA
Alexandru Iorga (Romania)
B8 TOURISM OF SEVEN SUMMITS – THREATS AND PROTECTION - BASED ON SELECTED SUMMITS
Marek Zoladek (Poland)
B9 ECOLOGY VS. ALPINISM … HUMAN IMPACT IN THE HIGH MOUNTAIN AREAS - BASED ON SELECTED AREAS
Marek ZOLADEK (Poland)
B10 POLLUTION IN THE HIGH-HIMALAYAS: A COMPARATIVE ANALYSIS OF HIGH-ALTITUDE RURAL AREAS
Michal Apollo (Poland)
B11 MOUNTAINEERING IN THE HIGH-HIMALAYA: THE CASE OF THE MIYAR VALLEY
Michal Apollo (Poland)
B12 UNDERSTANDING PRO-ENVIRONMENTAL BEHAVIOUR AND HUMAN- MADE SPACE: COMMUNITIES PLEADING FOR ENERGY EFFICIENCY
Georgiana van Broekhoven-Harjoghe (The Netherlands)
B13 SUSTAINABLE DEVELOPMENT IN THE NORTHERN RUSSIAN CITIES: REGIONAL INEQUALITIES, ENVIRONMENTAL PROBLEMS AND SOCIAL CHALLENGES
Dushkova Diana (Russia)
B14 WAYS TO ENHANCE BIODEGRADAION OF HYDROCARBONS IN SOIL BY MICROORGANISMS
Oksana Aliieva, Olena Matvyeyeva (Ukraina)
B15 ANTIDEPRESSANTS RESIDUES IN SURFACE WATERS AND THEIR EFFECT ON ZEBRAFISH (DANIO RERIO) EMBRYOS
Pavla Sehonova, Lucie Plhalova, Lenka Vecerkova, Dagmar Farkova, Zdenka Svobodova (Czech Republic)
B16 STUDY OF ANGULAR HORIZONTAL SUBSURFACE FLOW CONSTRUCTED WETLAND FOR SEWAGE TREATMENT USING   POLYCULTURE EMERGENT MACROPHYTES PLANTATION
V.P. Dhulap, S.S. Patil (India)
B17 INFLUENCE OF GEOLOGICAL FACTORS IN ESTABLISHING THE FOUNDATION CONDITIONS FOR DIFFICULT TERRAINS IN BUCHAREST
Tabaroiu Elena (Romania)
B18 CONTROL OF GEOLOGICAL AND GEOMORPHOLOGICAL PARAMETERS ON GROUNDWATER POTENTIAL, USING MULTI-CRITERIA ANALYSIS. A CASE STUDY OF KATTANKULATHUR BLOCK, TAMIL NADU, INDIA
Sachikanta Nanda, R. Annadurai (India)
B18 CIRCULAR ECONOMY: A POSSIBLE SOLUTION TO OUR ECOLOGICAL PROBLEMS?
Lica Iuliana Madalina (Romania)
B19 GEOSPATIAL TECHNOLOGIES IN APPRAISAL OF WATERSHED RESOURCES FOR SUSTAINABLE AGRICULTURAL DEVELOPMENT
Karuppusamy Balasubramani (India)
B20 PAKISTAN: STATUS AND CONSTRAINTS IN ENVIRONMENTAL BIOTECHNOLOGY
Tariq Ismail, Jibran Ahmad (Pakistan)
B21 GEOELECTRICAL INVESTIGATION OF SEAWATER INTRUSION IN THE COASTAL AQUIFER OF NADOR (TIPAZA, ALGERIA)
Bouderbala A., Remini B., Saaed Hamoudi A. (Algeria)
B22 STUDY OF MONUMENTAL HERITAGE TRADITIONAL MOROCCAN FOR A ENHANCEMENT AND CONSERVATION OF COLLECTIVE MEMORY DEVELOPMENT FOR SOCIO-ECO-SUSTAINABLE TOURISM-CASE KASBAH CHELLAH, RABAT
Siham Belhaj1, Bahi Lahcen, Akhssas Ahmed, Abdessamad Oufkhou (Morocco)
B23 GROUNDWATER MANAGEMENT OF JEFFARA OF MEDENINE (SOUTH-EASTERN TUNISIA): HYDRODYNAMIC NUMERICAL MODELING
Hamzaoui-Azaza Fadouaa, Baba Sy Mohamedb,  Ameur Meriema, Ben Salah Haithemc   Bouhlila Rachidac, Gueddari Moncefa (Tunisia)
B24 SYNOPTIC – DYNAMIC - SPECTRAL ANALYSIS ON 2009 SUMMERTIME DUST STORM AND IT'S SIMULATION IN IRAN'S SOUTHWEST
Nasim Hossein Hamzeh, Sara Karami, Ebrahim Fattahi (Iran)
B25 NATURAL HAZARDS IN ALBANIAN AREA OF LAKE OHRID
Mentor  Sulollari (Albania)
B26 ENVIRONMENTAL CHALLENGES IN A TRANSFORMING THE ECONOMY OF NIGERIA
Ibrahim Rafindadi Abdulrahman (Nigeria)
B27 IMPACTS OF CLIMATE CHANGE AND VARIABILITY ON FOOD SECURITY IN KENYA
Hezron Andang'o, Philip Omondi (Kenya)
B28 DEVELOPMENT OF LABORATORY SCALE COMPOST REACTORS AND PROCESS CONTROL SYSTEM
Recep Külcü, Osman Yaldiz, Can Ertekin, Deniz Yilmaz, Ahmet Süslü, Kerem Doğan (Turkey)
B29 GIS-BASED DETERMINATION OF LANDSLIDE PROPERTIES IN REGIONAL SCALE: KARABUK PROVINCE (NW TURKEY)
Berk Duruturk, Nermin Demir, Irmak Koseoglu, Ugur Berkay Onal, Murat Ercanoglu (Turkey)
B30 THE INVESTIGATION OF THE HYDROCHEMICAL PARAMETERS OF VAYOTS DZOR'S SEVERAL HYDROGEOLOGICAL NATURAL MONUMENTS
Marine Voskanyan, Martiros Nalbandyan (Armenia)
B31 FLOOD RISK PERCEPTIONS AND SPATIAL MULTI-CRITERIA ANALYSIS. THE DANUBE FLOODPLAIN AS A CASE STUDY (DOLJ COUNTY)
Stoica Marius Octavian (Romania)
B32 BIOREMEDIATION OF CONTAMINATED SOILS WITH PETROLEUM HYDROCARBURES IN BALARIA BIOREMEDIATION PLANT, GIURGIU COUNTY
Roxana Stancu (Romania)
C2 E-GNSS KNOWLEDGE TRIANGLE
Karol Brzostowski (Poland)
C3 ASSESSMENT OF THE SPATIO-TEMPORAL EVOLUTION OF AGUELMAM SIDI ALI LAKE USING MULTITEMPORAL LANDSAT IMAGERY (MIDDLE ATLAS - MOROCCO)
F.Menjour, F. Amraoui, T. Remmal (Morocco)
C4 PATTERNS OF LAND-USE CHANGES IN THE URBAN AREAS OF POST – SOCIALIST ROMANIA: A GIS-BASED EXPLORATORY ANALYSIS
Alexandra Sandu (France)
C7 APPLICATION OF LAND INFORMATION SYSTEM IN KADUNA STATE, NIGERIA
Saleh, Y., Hayatu, M., Musa (Nigeria)
C8 MODELING THE LAND USE CHANGES IN LONG-TERM, USING REMOTE SENSING AND ARTIFICIAL NEURAL NETWORK
Jabar Gohari, M. Mehdi Fazelbeygi (Iran)
C9 ASSESSING SPATIAL AND TEMPORAL TRENDS OF GRI AND SPI IN CENTRAL IRAN THROUGH USING GIS (CASE STUDY:  YAZD-ARDAKAN PLAIN)
Soudeh Ghasemian, Hassan Khosravi, Sara Abdollahzade (Iran)
C10 ASSESSMENT OF VEGETATION CHANGES IN SEMI-ARID ECOSYSTEMS BY USING TOA REFLECTANCE AND SAVI CALCULATION
Zahra Abdollahzadeh, Soudeh Ghasemian (Iran)
C11 GROUNDWATER QUALITY ASSESSMENT OF OUED RMAL AQUIFER (NORTHEASTERN OF TUNISIA) FOR AGRICULTURAL IRRIGATION USES, USING GIS TECHNOLOGY
Meriem Ameur (Tunisia)
C12 EXTRACTING GEOMORPHOLMETRIC PARAMETERS OF ZARDKUH, IRAN
Ali Ahmadabadi, Varduhi  Sargsyan (Iran)
C13 ANALYSING THE BEST AREA TO CULTIVATE DRY ALMOND USING GIS
Abdolkarim Zabet, Ashkan Asgari, Ahmad Borji, Hossein Zare (Iran)
C14 USING GIS TO ASSESS THE ARCHAEOLOGICAL POTENTIAL OF KARST GORGE VARGHIS
Bădescu Laurenţiu-Georgian (Romania)
C15 THE USE OF GIS IN ANALYZING THE DYNAMICS OF THE LANDFORMS IN CEAHLAU MASSIF BETWEEN 1950 AND 2016
Dumitru Florin-Ionel (Romania)
C16 LANDSCAPE DYNAMIC IN CIUCAŞ MOUNTAINS MONITORING USING GIS
Murătoreanu Maria Mădălina (Romania)